A Policeman's Prayer

Dear Lord,

Be with me on my beat
this day and every day.
Grant that each weary block I walk,
may ease a brothers way.
Let me be kindly to the old
and to the young, be strong~
But let me triumph over those
whose acts are cruel and wrong.
And if according to your plan,
I am to lose my life,
Please bless with your protecting hand
my children and my wife.

*Author Unknown*
ANNUAL MEMBERSHIP RENEWALS

LODGE DUES ARE TO BE PAID BY OCTOBER 1st FOR THE NEXT MEMBERSHIP YEAR. THE STATE AND GRAND LODGE REQUIRES THAT PER CAPITA DUES ARE FORWARDED TO THEM BY NOVEMBER 1.
ALL UNPAID MEMBERS WILL BE SUSPENDED.
CLICK HERE FOR APPLICATION FORM
MAIL YOUR RENEWAL TO :
FOP LODGE #127
PO BOX 772018
MIAMI, FLORIDA 33177
NEW MEMBERS: $50.00
RENEWAL FEE: $40.00
LATE FEE: $10.00

In the State of Florida it is illegal (a Misdemeanor) to display the FOP medallion by a non-FOP member.
Welcome to fraternal order of police - federal lodge 127 in Miami, Florida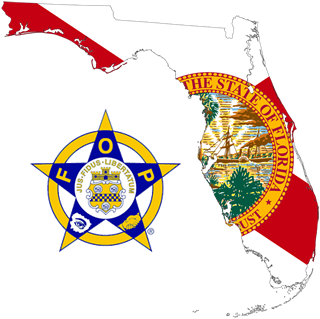 Lodge 127 is a Fraternal Lodge within the Fraternal Order of Police(FOP), which is located in the great State of Florida. This lodge consists of Federal Law Enforcement State and local officers, both active and retired.

The Federal FOP Lodge #127 believes in and provides legal and labor respresentation to officers based on equality, fairness and integrity.  We are committed to improving the working conditions for officers by discussing issues with department and city administrations.  Lodge #127 also believes in giving back to the citizens of Florida by participating in a variety of community involvement activities.
All lodge members are of one family and are brothers and sisters united in the furtherance of Federal and local Law Enforcement.
The opinions articles and statements herein are soley for and those of members of Lodge 127 and does not represent any official policy, statement, or stance of the FOP; Florida State Lodge or the FOP Grand Lodge. We however reserve the right to express our views that enhance and promote our profession, in our community and elsewhere in the U.S.
The Florida Federal Officer Coalition, a group in which all Federal Lodges in Florida are represented, have met with the aim to:


enhance the ability to communicate on matters which affect all Federal Officers,
to unite Federal Officer in the FOP, and
to discuss problems or any matter affecting the Federal Officer.
Any member can also join the coalition for a nominal fee. Visit their website at www.fed-fop.org.
If any member has any guidance and or input, it will presented to the coalition by the current Lodge President. The President of the Grand Lodge, State Lodges and its Staffs then take the information under consideration for legislation affecting the Federal Officer. The Grand Lodge sponsors bills that are considered priority legislation which will have an effect on the Federal Law Enforcement Officers.